Knockholt Village Tree Society
------------------------------------------------------------------------------
Knockholt villagers are lucky enough to have their own areas of woodland - Vavasseur's Wood and Blueberry Wood in Main Road - for picnicking and walking.
A fruitful Apple Tree grows from one minute pip; a Giant Oak from one small acorn; Knockholt Village Tree Society developed from a group of six people who enjoyed trees and had spent many hours working in the woodland in and around Knockholt Village.
The Society was formed in January 1992. Tony Edwards was elected Chairman at the inaugural meeting, Reg Richardson its Treasurer and Gill King Scott became Secretary. The other committee members were Peter Ball, Derek King Scott and John McIntyre: there were 34 members.
The aims were to bring together like-minded people of every age with an interest in trees, the development of woodlands, forestry in general and to encourage the planting and conservation of trees in Knockholt and the surrounding areas. There were social events including talks and visits to gardens and arboreta.
With the passing of time working parties have continued on a regular basis, most of these in Vavasseurs Wood and Blueberry Wood. Visits are still made annually to specialist gardens and frequently the members enjoy walks.
In Vavasseurs Wood, 'special woodland' days are held to encourage visitors. There is a Snowdrop Walk in spring, occasionally an Easter Bunny Hunt, Summer BBQ in July and always there will beTree Planting in the autumn. The Society has moved on from specialising in trees alone and now plants indigenous wild bulbs and plants plus seeds are scattered to feed and encourage the wildlife.
Small bird boxes, owl boxes and bat boxes have been positioned throughout the wood many donated by generous supporters. Last swathes of decaying trees have been cleared and areas are being planted with indigenous trees. In Blueberry Wood, a wildlife wooded meadow has been created with a grass pathway winding its way through wild flowers and meadow grass - to a picnic bench overlooking the London skyline.
------------------------------------------------------------------------------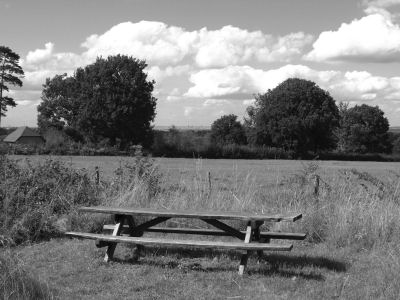 The magnificent view from the picnic table in Blueberry Wood looking over and south and east London.
------------------------------------------------------------------------------