Vavasseur's Wood
-----------------------------------------------------------------------------
James Vavasseur was a City of London silk merchant who demolished the old Knockholt House and erected a huge fantastic house on the site to his own design. It was completed about 1890 and he then added a tower in 1892. Although the house was a vast monstrosity that could be seen for miles around (it was one of the highest houses in Kent) the gardens were magnificent.
James' wife, Helen died in 1902 and James in 1906, leaving their two unmarried daughters in residence.
The house was only to last 50 years, falling into decay and then being badly damaged by a bomb during the Second World War. It was finally demolished in 1942.
Most of the farmland associated with Knockholt House was sold to the Chevening Estate but the gardens were eventually bought by Knockholt Parish Council who have leased them to the Knockholt Village Tree Society
------------------------------------------------------------------------------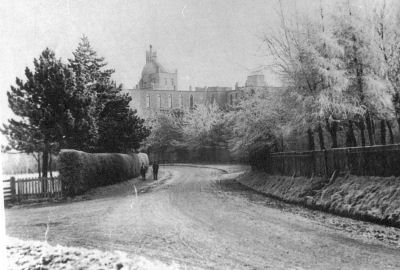 Knockholt House with its tower, looking east on a frosty morning from the junction of Blueberry Lane (just visible on the left) and Main Road. Vavasseur's Wood are the woods on the right hand side of the road.
------------------------------------------------------------------------------